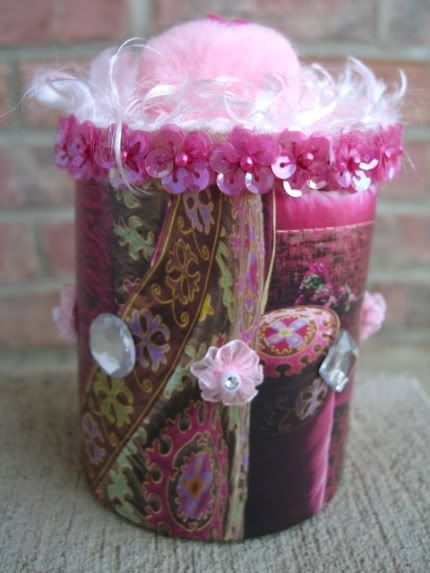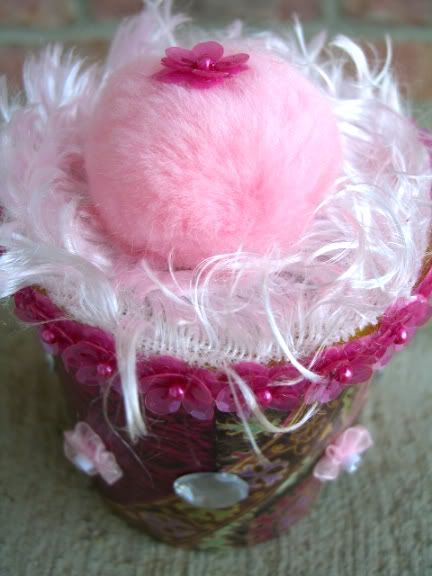 PROJECT OVERVIEW:
This project has many decorating possibilities! The goal is to convert an empty food tin/canister into a decorative "Trinket Tin" that might keep jewelry, coins, and other trinkets.
TIP: Consider following a theme for your tin to express yourself! For example, if you like cats you could find cat pictures in magazines and glue them to your canister. :) 
Have fun - ANYTHING GOES!!!!

SUPPLY LIST:
- empty tin canister and lid (roughly small peanut size)
- scrap papers
- scrap embellisments (glitter, sequins, stickers, buttons, etc)
- ribbon/bow, etc
- glue or double sided adhesive tape (scrapbooking dots)
DIRECTIONS:
1)
Rinse out your tin and lid.
2)
Cover the entire outside of tin/canister with scrap papers (using glue or tape). Be creative, there are many ways to cover the tin such as: wrapping with paper, covering with torn paper scraps, etc.
3)
Further decorate your Trinket Tin with found embellishments such as: glitter, sequins, stickers, buttons, etc.
4)
Decorate the lid with some sort of "topper" such as a bow or ribbon.
Be creative, again...anything goes!
5)
Set your Trinket Tin aside to dry.
6)
When dry, fill with trinkets for safekeeping.
Perfect for your bedroom dresser :)