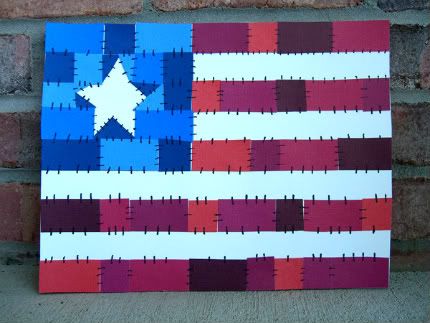 PROJECT OVERVIEW:

Create an American Flag in a quilted-style using paper scraps from (magazines, mail, scrap drawer, etc). Kids will use the paper pieces as if they were quilt sections. Patch them together on a letter sized piece of paper, glue down and then use permanent black marker to create a stitch-effect (making the flag look like it was sewn together like a quilt).
The quilted style is to symbolize our country's history, representing unity/togetherness and the melting-pot of our citizens.
This project works great as individual or group art. Classrooms and large groups might try this on a large sheet of paper or cardboard to cover an entire wall!
SUPPLY LIST:

- letter sized sheet of card stock or card board
- scrap papers from: magazines, junk mail, newspaper, etc.
- pencil
- scissors
- glue
- black permanent marker
DIRECTIONS:
1)
Find a piece of white card stock or heavy white paper to create your flag on.
TIP: Cream paper would create an antique-style flag.
2)
Lightly draw a flag on your card stock. Kids might want to do an abbreviated version of the flag since it might be hard to include all 50 stars and 13 stripes.
NOTE: Kids can be creative with the number of stars and stripes they use. Emphasize the importance of having a red strip on top and bottom (white stripes on the outside will get dirty faster).
3)
Find red and blue scrap paper pieces to form your flag with. The white sections = the white of the paper, but kids can use white paper for the star/s if they choose. Cut the pieces out with scissors and sort into a red and blue pile.
NOTE: there will be a variety of blues and reds creating the flag. Consider using red/blue sections that have patterns so that it will look like fabric.
Avoid using colored sections with text, solid color blocks or color patterns will work best.
4)
Glue the pieces down on flag, in quilt-like sections. Start with red stripes first, then the blue section.
5)
Let glued pieces dry.
6)
Use permanent marker to create a stitch effect at the seam of each quilt section (the seam of each paper piece).
TIP: If the flag was done as a group, consider having each kid sign their name or write a short message about America. 
7)
Hang up and enjoy!