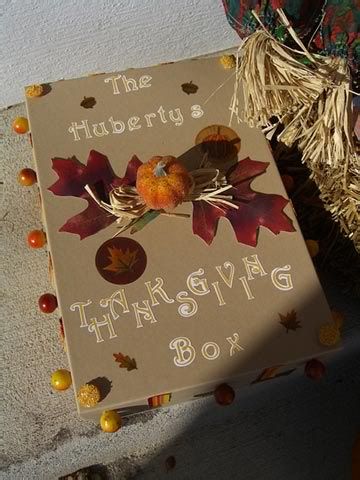 PROJECT OVERVIEW:
Create a family "Thanksgiving Box" from a shoe box... to house family members' thank you notes accumulated once a year at Thanksgiving. The notes will be kept in this box and added to each year. The notes can be shared and looked back at every year at Thanksgiving dinner. :)
SUPPLY LIST:
- empty shoe box
- pack of notecards (lined or unlined)
- scrap papers, magazines and other items to decorate with
- glue
- scissors
DIRECTIONS:
1)
Find an empty shoe box. Decorate the outside of shoe box in a fun, Thanksgiving theme. Cover the entire box and lid.
*Consider: fall colors, Thanksgiving icons/motifs, pilgrims, indians, etc.
Good materials to decorate are: scrap papers, magazines, newsprint, junk mail, stickers, ribbon, yarn, buttons, beads, etc...
2)
Decorate the lid too... adding a title to your box such as "The Sefcik Family Thanksgiving Box" or "Our Family Thanksgiving Box".
Consider cutting letters out of old magazines and newsprint to write out your title. TIP: Add an old knob to the top of lid to create handle :)
3)
Let entire box dry
(be sure to keep lid off box while drying so it doesn't glue to box).
4)
Put a stack of notecards inside your box for family members to write their "I am thankful for..." message on. Be sure to have each family member sign and date their message.
5)
Each Thanksgiving, have family members fill out the cards and put inside box. It is fun to read past cards each year at dinner.... as well as to share the new "thank you notes."